KPK Police Constable Written Test Syllabus Pattern
KPK Police Constable Written Test Syllabus Pattern Written Test Syllabus Sample Papers & MCQS With Answers from here in pdf format. The complete information about KPK Police Constable Written Test Syllabus. Candidates who are going to apply for KPK Police Department Jobs via ETEA are to read this article for their initial written test syllabus, kpk police constable past papers pdf, police constable syllabus pdf download, kpk police test preparation, police constable etea test mcqs pdf, kpk police etea test paper, and etea test model paper for constable. This test syllabus is valid for Lady Constable and Constable BPS-07 Jobs in Khyber Pakhtun Khwa. KPK Police Constable Test Preparation.
KPK Police Constable Test Syllabus
KPK Police Constable Past Papers Pdf. Latest job advertisements from daily Urdu newspapers like Daily Express Newspaper, Daily Jang, Daily Nawai Waqt, Dawn Newspaper, Daily Dunya Newspaper, and the Nation. Daily Jobs are updated on this website Jobs Pk from Govt sector, Private Sector including Join Pak Army Jobs, KPK Police ETEA Test Paper 2023 Join PAF Jobs, PAEC Jobs, NADRA Jobs, Wapda Jobs, Pak Navy Jobs, Police Jobs, and Motorway Police Jobs in Pakistan. KPK Police Constable Written Test Result 2023 candidates lists also check here at from.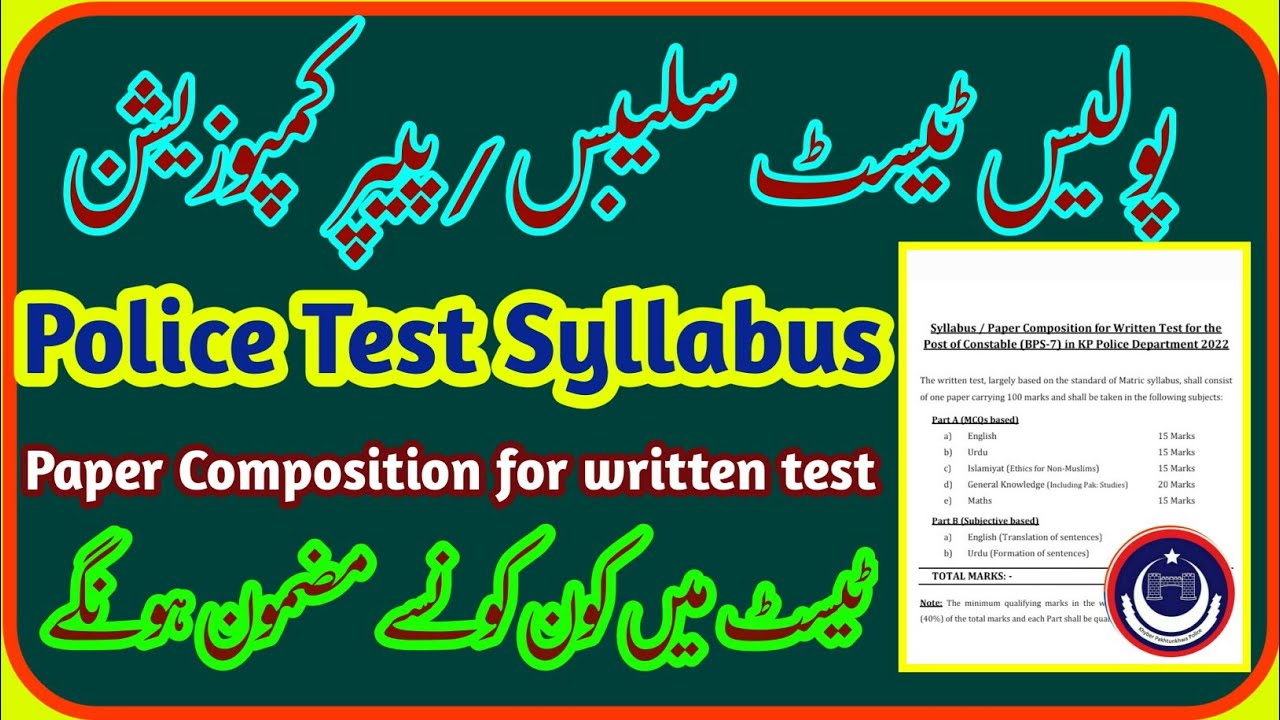 KPK Police Constable Written Test Syllabus Pattern
KPK Police Test Paper Jobs from all provinces like Punjab, Khyber Pakhtunkhwa KPK, Sindh, and Balochistan are also published on this page. Our Source is the no 1 job website in Pakistan for the latest and new career opportunities for unemployed candidates in Pakistan.
KPK Police Constable Written Test Syllabus
The Khyber Pakhtunkhwa Police is responsible for law enforcement and policing in the Khyber Pakhtunkhwa province. The areas that constitute the present-day Khyber Pakhtunkhwa province. The written test, largely based on the standard of the Matric syllabus, shall consist of one paper carrying 100 marks and shall be taken in the following subjects. There will be 02 ETEA KP Police Constable papers will be conducted one is MCQs based and the other is subjective based. KPK Police Constable Written Test Roll Number Slip also download from this source.
KPK Police Constable Test Book Pdf
Paper A Syllabus MCQs Based
Following is MCQS based test syllabus and pattern of KPK Police Constable Jobs Via ETEA.
English: 20 Marks
Urdu: 15 Marks
Islamiyat( Ethics for Non-Muslims): 20 Marks
General Knowledge( Including Pak Studies): 25 Marks
Part B Syllabus ( Subjective Based)
English ( Translation of Sentences): 10 Marks
Urdu ( Formation of Sentences): 10 Marks
Check More: FC Jobs Written Test Syllabus and Pattern Mcqs
With out preparation of test, you cant pass the written test of etea. Here Constable posts past papers are available for the the jobs in Khyber Pakhtunkhwa Police department via etea. MCQS questions consist of Verbal Logic, Quantitative Logic and Analytical Logic. Here CPEC & NMDs & District SWAT jobs sample paper are also available.
How to Download KPK Police Posts Model Papers?
Mostly Test consist of MCQS having multiple choice questions (MCQs) usually MCQS of Computer, MCQS of Islamiat, MCQS of Chemistry, English MCQS, and etea General Knowledge MCQS also. You can work out these Sample papers so many times until they get understand the pattern of the test as well as know how to pass the test.
Total Marks: 100
The minimum qualifying marks in the written test shall be 40% of the total marks and each Part shall be qualified with the same percentage.