Physical Test Date Announced for Islamabad Police Written Test Syllabus Pattern
Physical Test Date Announced for Islamabad Police Written Test Syllabus Pattern, Following is the test syllabus and test pattern for ICT Police Constable and Lady Constable Jobs, and the questions are MCQs based. Candidates need to pass the physical requirement and the written test is also conducted by all eligible and qualified candidates.
Islamabad Police Jobs have been announced. Many of you may have applied for it. Their closing date will be gone within a few days. Now the Islamabad Police Will soon conduct the Written test, Physical Test and Interview. So here we will provide you all the information regarding with Islamabad police jobs.
Physical Test Date Announced for Islamabad Police Written Test Syllabus Pattern
Islamabad Police Jobs Test Sallybuss For Written Test
| | |
| --- | --- |
| English | 15% |
| General Knowledge / Current Affairs | 15% |
| Pak study/Islamic Study | 15% |
| Urdu | 15% |
| Psychology | 20% |
| Intelligence Questions | 20% |
Islamabad Police NTS Test Guidelines and Pattern Sample Papers
Now it the time for the third step as you have cleared the above two steps physical and written tests. Please fill out the Application Form properly. Islamabad Capital Territory Police Department has announced the latest … These tests specially make on the syllabus and pattern of NTS.
Islamabad Police Physical Test 2023
After the online application and closing dates of Islamabad police jobs 2023, the authority will first conduct the Physical Test. The Date of the Physical Test of Islamabad Police is 31 October to 4 November. The following Producer will occur in the Physical Test of Islamabad Police.
For Male the minimum height is 5ft 7inch.
For female the minimum height is 5ft 2inch.
The Chest Should be 33 to 34 inches for Male only.
The Running will be 1.5 Miles. The Male will complete it in 10min while Female will complete it within 15 Minutes.
Islamabad Police Date Category
| | |
| --- | --- |
| Receiving of Applications | 2 to 16 October 2023 |
| Scrutiny of Application | 17 to 23 October 2023 |
| Physical Test | 31 To 4 November 2023 |
| Review Board | 5 to 6 November 2023 |
| Written Examination | 10 November 2023 |
| Display of Successful Candidates | 18 November 2023 |
| Interview | 21 November 2023 |
| Final Results | 18 December 2023 |
Islamabad Police ICT Advertisement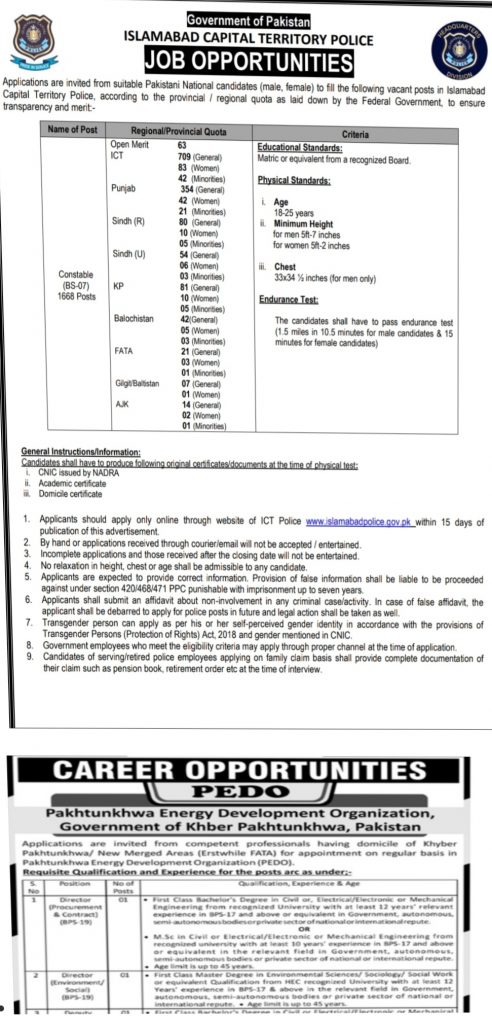 Islamabad Police ICT Written Test 2023
After completion of the Physical Test, there will be the next procedure of the written test. The candidates will do the Written test. The written examination of Islamabad Police will be held on 22 November 2023. So be aware of the written test Islamabad Police. The written test of Islamabad Police Will constitute marks. Minimum passing marks must be required for Selection in Islamabad Police.
Islamabad Police Constable Physical Test
Physical Test in Islamabad Police Jobs Complete Apply Process Constable … Males & Females From Overall Pakistan Islamabad Police Has Announce. islamabad police physical test requirements, islamabad police past papers pdf, islamabad police constable past papers, islamabad police test preparation, police nts test questions and answers, police constable test preparation, nts islamabad police, gilgit baltistan police test paper.
Check Also: Punjab Police Jobs NTS Written Test Syllabus Sample Papers
Islamabad Police ICT Medical Test
After successful selection by Islamabad Police candidates will undergo a medical test conducted by Federal Government Board or Civil Surgeon.
Hepatitis Test B/C.
The eye Test must be 6/6.
Blood Test.
Gentile Test.
Islamabad ICT Police Interview
After the successful completion of all test phases, the Selected candidates will be shortlisted for the final interview. The interview will be held on 21 November 2023. Candidates should bring all the accessories needed by Islamabad Police.
Check More: Sindh Public Service Commission SPSC Jobs Advertisement No 4/2022
Subject Wise Sample Papers Police Jobs

Islamabad Police Final Merit List
After completion of all the Recruitment processes for Islamabad Police ICT Jobs 2023. The last stage will be uploading of final merit. The Final results of Islamabad Capital Territory Police Jobs 2023 will be uploaded on 18 December 2023. In the Final results, the selected candidates will be awarded the appointment letter and soon they will Join the Islamabad Police.