LUMS National Outreach Program 2023 | LUMS University NOP Scholarship 2023
LUMS National Outreach Program 2023 | LUMS University NOP Scholarship 2023 has announced now. Students from all over Pakistan can apply for this scholarship program. Lahore University of Managements Sciences LUMS offers each and every student from all Pakistan to come forward and be a part of LUMS University. Through this LUMS National Outreach Program 2023 | LUMS University NOP Scholarship 2023 many students got admission in the LUMS and completed their graduates, now serving all around the world. For this National Outreach Program students who have good academic record in the Matric and Intermediate with the above 80% marks. All qualified scholars, who qualify for this program NOP are given full financial assistance.
National University of Management Sciences LUMS launched its National Outreach Program NOP Scholarship in 2001.The main purpose is to extend the benefits of world class education to talented students all over the Pakistan. To becomes a truly National university in the country. LUMS University NOP Scholarship focuses on identifying bright students with exceptional Matriculation and FA/FSc results and inducting them into the LUMS Undergraduate Programmes. This program based on the merit policy which depends on the marks of students in the class Matric and FA/FSc.
LUMS Scholarship National Outreach Program 2023

Last Date Apply

 

16-03-2021

Eligibility



Matric / Intermediate with 80% Marks
Domicile
Pakistan

Age Limit



 –
University
Lahore University of Management Sciences, LUMS
Apply Online

Click Here

Roll Number Slip
Available Here 
Test Dates
–

Answer keys

Download Here

Result
Click Here
LUMS is very proud of its scholars, as approximately 1200 NOP Students enrolled and over 600 graduated students. Who are serving in different fields all over the world. These NOP scholars are now out in the world pursuing their dreams and helping their families and communities. So the students who have the ability and have a good academic record cn avail this golden opportunity to be come a part of LUMS, and become an International level graduate.
LUMS University NOP Scholarship Eligibility 2023:
The NOP Scholarship is a need based scholarship. Only those students who can establish their eligibility as a genuinely deserving candidate with 80% and above marks in Matriculation or the equivalent in O Levels, will be considered.
The best time to register is when you are in the first year of FA/ FSc. Since the process takes two years, by the time you finish your Intermediate, you will be able to start your Undergraduate classes at LUMS, if selected for admission. Students who register for the National Outreach Program Summer Coaching Session for the year 2023 will be able to join the Undergraduate Programme at LUMS in year 2023.
How to Apply LUMS National Outreach Program Online 2023:
LUMS National Outreach Program Application Form 2023 are available now. All Students who are eligible to apply for LUMS University NOP Scholarship can submit their form online before the due dates. For this purpose students get login online and fulfill the online form through given link. As LUMS does not compromise on merit, NOP candidates have to fulfill the same academic criteria as other students applying through the regular admission stream.
NOP Online Application Submission:
Students who meet the eligibility criteria for the LUMS Outreach program should submit their application online at the online apply portal. After the scrutiny  of documents students call for the summer coaching classes in the LUMS University.
Shortlisted candidates will be called in for a two-week summer coaching session at LUMS. The session will be arranged during the summer holidays and all expenses, except traveling, will be covered by LUMS.
SAT Admission Online Application:
After getting short-listed on the basis of their performance in the Summer Coaching Session, students are registered for SAT. Test Registration forms for the Scholastic Aptitude Test (SAT) are provided free of cost. These students are also required to submit the online Admission & Financial Aid application. After the Application Submission and Test registration, NOP applicants are required to appear in the SAT. Finally, the applicants who are offered admission at LUMS are interviewed by the Financial Aid Committee in order to assess the need of the applicant. Based on the decision, an official intimation is sent to the student which he/ she can choose to accept or reject.
The next step for successful NOP Summer Coaching Session candidates is to fill an online application for admission to LUMS through the following link: https://admissions.lums.edu.pk/. Qualifying students will become LUMS NOP Scholars.
LUMS National Outreach Program Result 2023:
After meet all eligibility and fulfill the criteria for LUMS National Outreach Program 2023 students appear in a SAT test which conduct by the LUMS University specially for scholars. Those students who take summer coaching classes and prepare for the SAT test now shortlist for the next final test. Shortlisted candidates can participate in the SAT Test. While final selection based on the marks in this test. LUMS NOP Program select final candidates who will be the part of LUMS Graduate for next session.
LUMS National Outreach Program 2023 | LUMS University NOP Scholarship 2023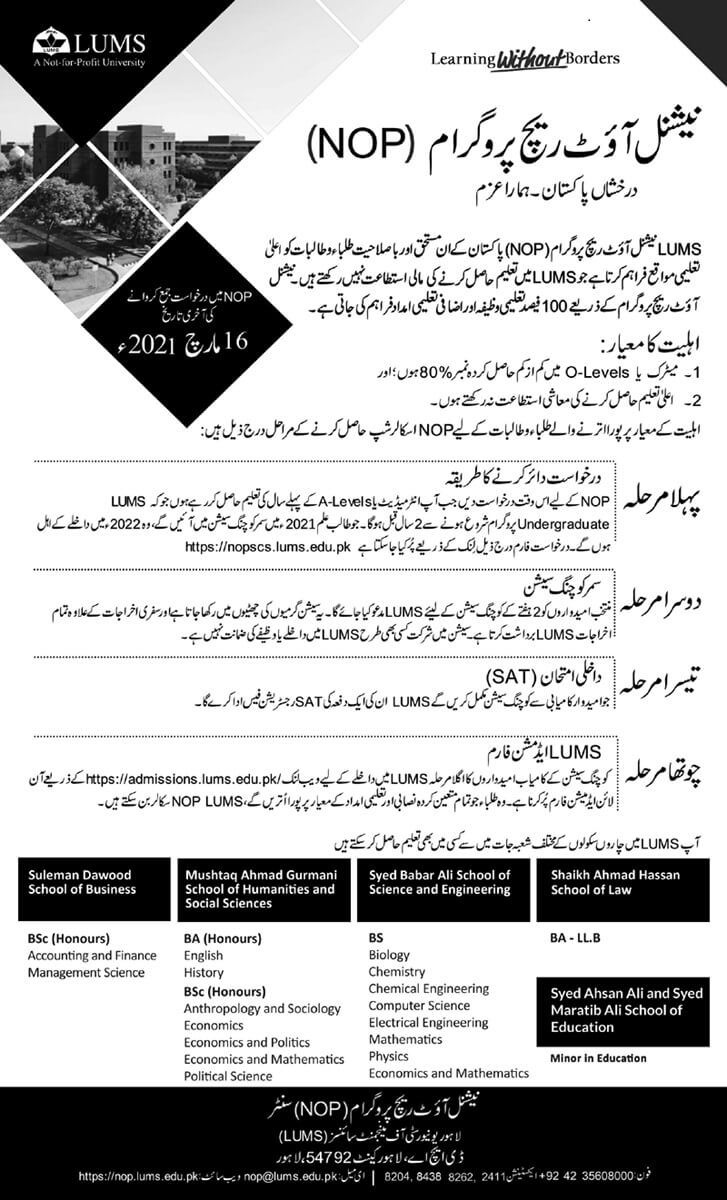 SO all those candidates who are interested to apply LUMS National Outreach Program 2023 | LUMS University NOP Scholarship 2023 Can get all info about this program here. After final test candidates can check LUMS University NOP Scholarship Final Merit list too. SO keep visiting here for more latest updates about LUMS NOP Scholarship program.