Pakistan Science Foundation STFS NTS Application Form Registration Online 2023
Pakistan Science Foundation STFS 2023 is an autonomous body under the ministry of Science and Technology which is undergoing to choose batch comprising 300 students.Pakistan Science Foundation (PSF) is continuously striving for promotion of science in the youth and encouraging them towards Science Education. Science talent forming scheme focuses particularly those metric students across the Pakistan, who are eager to adopt Science as Profession.
Pakistan Science Foundation STFS 2023 work for those enthusiastic students will be selected for scientific education and training with an aim to become scientist in future. Through this aforesaid scheme selected candidates will have to get admission in renowned government colleges as well. The list of recognized colleges is also going to dispatch here on this page.
For the online preparation of the NTS Admission test syllabus available here:
NTS Test Subject Wise Sample Papers:
Eligibility Criteria:
Students of Science group who have been passed in 9th class annual examination of 2016 and are eligible to appear in examination of class 10th 2023.
At least 60% score obtained in all subjects collectively, and minimum 70% score in four Science subjects chemistry,Mathematics,Physics,Biology/Computer is compulsory.
Selection Criteria:
Initial process will start by synchronizing the candidates with respect to their Scientific aptitude.
IQ test (written form) will be conducted scientifically by third party as assigned.
Interview/Presentation will be taken based on constructive/innovative ideas.
All seats will be allocated to regions in accordance with recognized policy of federal government.
80% Quota will be given to government Schools while remaining 20% to Non-government Schools.
Selected candidates will have to take admission only in those colleges which are recognized by STFS for F.Sc Discipline
Financial Coverage and other Facilities:
Admission facility will be given to selected candidates in government based famous colleges of cities including (Islamabad, Karachi, Lahore, Faisalabad, Multan, Peshawar, sukkar, Haiderabad and Quetta).
Monthly stipend will be paid to bear the expenditures like Tuition fee/hostel fee and other educational expenses.
Curriculum Activities:
Learning-based activities, like research projects will be initiated from 1st year (F.Sc) under the keen supervision of University teachers.
Learning Schedule will also be inquiry based and activity based.
Learning based educational tours of various universities and Science and technology institutions in order to enhance knowledge.
Summer Camps, youth Science forums, and facility of mobile talent forming laboratories will also be provided to students.
Students who demonstrate graceful record during studies,will visit foreign universities/ international research institutions/Universities.So that they could be able boost up their interest level as well as Scientific approach.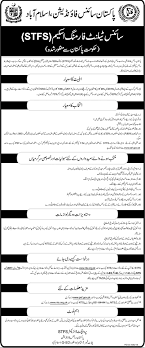 Pakistan Science Foundation STFS NTS Application Form Registration Online 2023
Documental Requirements:
Attested copy of 9th result from board/School dully stamped and signed by Principal of School.
Domicile copy of candidate or his/her guardian.
After Declaration of metric result the score card will be demanded with immediate effects.
In case of wrong information submitted by candidate, the application form shall be rejected.
How to apply?
Application completed with all aspects must reach through post/courier at NTS headquarter,1-E street number 46 sector I-8/2 Islamabad.
Last date for the submission of application is 10th February 2023.
Applications received after due date shall not be entertained.
No TA/DA will b given to candidates for test/interview.
Note:
Applications forms will be synchronized with each aspect provided by selected candidates.In case of found any malicious/wrong information provided by candidate then application form concerning to that person shall be rejected and legal proceeding against student will be initiated.