PMA 153 Long Course Preparation Test Pattern Syllabus
Pakistan Military Academy PMA 153 Long Course Preparation Test Pattern Syllabus Papers, model papers, Academics notes, Verbal, Non Verbal notes books physical written test tips Mcqs Subject wise complete details. PMA Long Course 153 is announced for Regular Commissioned Officers of Combat and Battle Support Arms and Services. Prepare for PMA long course using the new book by Dogar Brothers. Using this book you will be able to prepare for your PMA long course exam.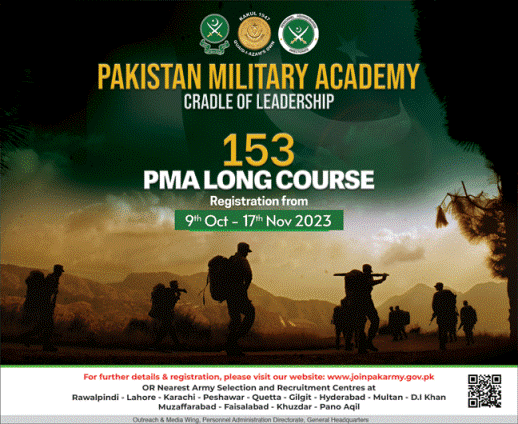 Join Pak Army PMA Long Course Preparation
The Pakistan Military Academy (PMA) 153 Long Course initial test is the first step in the selection process for candidates who aspire to join the Pakistan Army as commissioned officers. Elevate Your Performance: Dogar Test Prep Books. Buy Now. Empower Your Exam Journey with Dogar Test Prep Books. Shop Now. Dogar Top Choice. Exclusive Guide Books. The initial test typically includes two main components: an intelligence test and an academic test. Here's a general overview of what you can expect in the initial test:
1. Intelligence Test:
The intelligence test is designed to assess your cognitive and problem-solving abilities.
It usually consists of multiple-choice questions or tasks that evaluate your logical thinking, analytical skills, and decision-making capabilities.
The questions are generally time-limited to measure your ability to make quick and accurate decisions.
2. Academic Test:
The academic test evaluates your knowledge in various subjects, including English, mathematics, and general knowledge.
It typically includes multiple-choice questions or short-answer questions.
The academic test is aimed at assessing your academic proficiency and general knowledge.
Important Points to Remember:
Be well-prepared for the initial test. Review relevant academic subjects and practice solving intelligence test questions.
Pay close attention to the instructions provided during the test, including time limits and guidelines for each section.
Dress appropriately for the test day and arrive on time at the designated examination center.
To find specific details about the PMA 153 Long Course initial test, including the date, time, and location, you should refer to the official Pakistan Army website or official announcements in newspapers. Additionally, the official website will provide updates and information regarding the selection process, including any changes in requirements or test formats.
Keep in mind that the selection process for the PMA Long Course is highly competitive, and thorough preparation is essential. It's advisable to practice sample test questions and seek guidance from experts if needed to increase your chances of success.
PMA 153 Long Course Test Pattern Syllabus
Solve maximum questions for PMA mcq exam preparation for all sections; Attempt as many PMA initial test practice questions as possible, with a time management. Please, Start preparing yourself for the PMA long course test through our website.
Initial Test Pattern
Here we will discuss the Initial Test Pattern and Syllabus for 153 PMA Long Course. PMA Long Course Initial Test consist of two types of tests:
Intelligence Test
Academic Test
Candidates have to clear these two tests.
Intelligence Test: 
There are two types of Intelligence Test.
Verbal Intelligence Test
Non Verbal Intelligence Test
Verbal Intelligence Test consist of 84 MCQs and time limit is 30 minutes.
Non Verbal Intelligence Test consist of 60 MCQs and time limit is 30 minutes.
Academic Test:
Academic Test consist of the following subjects:
English
Pak Studies
Islamiat
Mathematics
General Knowledge
Academic Test consist of total 50 MCQs and time limit is 30 minutes.
Note: The Initial Test is taken on a Computer.
Test Syllabus
Some important types of Verbal and Non Verbal Intelligence Test includes:
Verbal Intelligence Test
Number Series
Alphabet Series
Percentage Questions
Time, Speed and Distance
Directions Type
Relationship Questions
Age Related Questions
Coding/Decoding
Analogy Type Questions
Days Related Questions
Odd Man Out Questions
Non Verbal Intelligence Test
Series Type Questions
Odd Man Out
Analogy Type
Patterns Related Questions
For Intelligence Test Preparation you can also watch our online lectures.
Academic Test Preparation
Here I will share some Past MCQs for Academic Test Preparation
Cos 0 equal to ______.
Which Pass connects Pakistan with Afghanistan?
Ghazwa Badr was fought in which year?
Khewra Salth Mine is located in which region?
The Nehru Report was published in ______.
The Sindh was seperated from Bombay in _______.
How many Rukus in Quran?
Zulnoorain is the title of?
RCD stands for?
Name of 3rd Governor General of Pakistan?
How many Muslims were there in Ghazwa Tabuk?
Largest district of Pakistan?
Capital of Punjab Province?
Jahangir Khan was a player of?
Dawn was founded by?
First woman Prime Minister of the world?
Largest Province of Pakistan by population?
Leap years comes after every?
PEMRA stands for?
Apply Now!
PMA Long Course Preparation Books
PMA Long Course 152 & 153 Initial Test Preparation Academic Course, The PMA Initial Test is the first stage that candidates need to successfully clear in order to get admission in the Pakistan Military Academy. The PMA Initial Test consists entirely of Multiple Choice Questions (MCQs) and is divided into two sections; the Intelligence Test and the Academic Test. Let's discuss these two sections so that you may have a good idea of what to expect in the PMA Initial Test.
Preparing for the Pakistan Military Academy (PMA) Long Course is a significant undertaking. To excel in the selection process, candidates often benefit from a combination of academic knowledge, physical fitness, and mental aptitude. Here are some recommended preparation books and resources to help you in your PMA Long Course preparation:
1. Academic Preparation:
Mathematics, English, and General Knowledge are crucial subjects for the academic test. You can refer to standard textbooks and resources for these subjects.

Mathematics: "Mathematics for Entry Test" by Muhammad Idrees or other intermediate-level math textbooks.
English: "High School English Grammar and Composition" by Wren & Martin.
General Knowledge: "Caravan General Knowledge" by Ch. Ahmed Najib and various other general knowledge books.
2. ISSB (Inter Services Selection Board) Preparation:
To prepare for the ISSB tests, you can find various ISSB preparation books that offer insights into intelligence tests, interviews, and psychological assessments.
"The Complete ISSB Book" by Dogar Brothers is a useful guide for ISSB test preparation.
3. Physical Fitness:
Physical fitness is crucial for success at PMA. Regular exercise and conditioning are essential. Consider training materials like "Navy SEAL Fitness" by Stewart Smith for workout ideas.
4. Previous Years' Papers:
Past years' papers and sample tests can be invaluable for understanding the types of questions and the level of difficulty you can expect. Look for PMA Long Course preparation books or guides that include sample papers.
5. Self-Help and Leadership Books:
Reading books on leadership, motivation, and self-improvement can help you develop the qualities required in a military officer.
"Leaders Eat Last" by Simon Sinek and "Grit: The Power of Passion and Perseverance" by Angela Duckworth are good choices.
6. Join PMA Facebook Groups and Forums:
Online forums and Facebook groups dedicated to PMA Long Course aspirants can be a valuable source of information and support. You can interact with others who are preparing for the same process and get tips and guidance.
7. Coaching Centers and Guidance:
Consider enrolling in a coaching center that specializes in PMA Long Course preparation. They often provide structured guidance and study materials.
Remember that success in the PMA Long Course is not just about book knowledge; it's also about physical fitness, leadership qualities, and a strong motivation to serve in the Pakistan Army. A well-rounded preparation approach that includes academic study, physical training, and mental preparedness will serve you best in this endeavor.
More:
PMA Long Course Initial ISSB Tests Preparations
The Academic Test portion of the PMA Initial Test consists of 40 questions related to five subjects, namely, English, Mathematics, Pakistan Studies, Islamiat, and General Knowledge.
The questions are fairly simple, and are based on concepts that students from F.Sc./equivalent level are familiar with. Our comprehensive PMA Initial Test preparation course and this PMA Academic Test preparation course are ideal sources to prepare for the Academic Test.
The first section is the Intelligence Test. It has two types of questions,
Verbal Intelligence: As the name suggests, this consists of questions which test a person's ability to think on concepts framed in words. For example, a topic covered in this is called analogy. In it, you'll see questions like "Bird:Sky as Fish:__".

Non Verbal Intelligence: These types of questions test a person's ability to reason using concepts that do not involve language. For example, you might be given a series of shapes that follow a certain logic, and you'll be asked to figure out the next image.
Both these sections are extensively covered in our PMA Intelligence Test preparation course. It is vital that students prepare well for the Intelligence Test portion of the PMA Initial Test, because if they do not pass it, they are not allowed to move forward towards the Academic Test.
Now that you have an idea of what to expect at the PMA Initial Test, enroll at our course and start your journey straight away.
How to Pass the PMA Entrance Exams?
Passing the Pakistan Military Academy (PMA) entrance exams is a challenging and competitive process. It requires a combination of academic preparation, physical fitness, and mental aptitude. Here are some tips to help you pass the PMA entrance exams:
1. Understand the Selection Process:
Familiarize yourself with the entire selection process, including the written exams, physical tests, medical evaluations, and interviews. Knowing what to expect will help you prepare more effectively.
2. Academic Preparation:
The initial written exams usually cover subjects like Mathematics, English, and General Knowledge. Consider the following:

Mathematics: Review the basics and practice solving mathematical problems. Focus on algebra, geometry, and arithmetic.
English: Improve your reading comprehension, grammar, and vocabulary. Practice writing essays and summaries.
General Knowledge: Stay updated on current affairs, history, geography, and general knowledge topics. Read newspapers and magazines regularly.
3. Physical Fitness:
Physical fitness is a critical aspect of the PMA entrance process. Aim to achieve and maintain an excellent level of fitness.

Develop a regular exercise routine that includes running, push-ups, sit-ups, and other fitness activities.
Work on your endurance, strength, and flexibility.
Maintain a healthy diet and stay hydrated.
4. Time Management:
Create a study schedule that balances academic preparation and physical fitness. Allocate specific time for each subject and exercise.
Prioritize tasks and set goals to ensure you make efficient use of your time.
5. Practice Past Papers:
Obtain past entrance exam papers and practice solving them. This will give you a sense of the exam format and the type of questions you can expect.
6. Join Coaching Programs:
Consider enrolling in coaching programs or academies that specialize in PMA entrance exam preparation. They often provide guidance, study materials, and simulated tests.
7. Mock Interviews:
If possible, participate in mock interviews to prepare for the interview portion of the selection process. This will help you build confidence and improve your communication skills.
8. Stay Informed:
Keep up-to-date with any changes in the PMA entrance exam format, requirements, or dates. Information is often posted on the official Pakistan Army website.
9. Seek Mentorship:
Connect with individuals who have successfully passed the PMA entrance exams or have military experience. They can provide guidance and insights.
10. Maintain Discipline and Perseverance:
The PMA entrance process is demanding. Stay disciplined in your preparation and remain persistent, even if you face setbacks.
Remember that the PMA entrance exams are not just about knowledge; they assess your overall suitability for a military career, including leadership, discipline, and physical fitness. Therefore, prepare holistically and approach the process with determination and dedication.
Check Online@ISSB Result Status Online www.issb.com.pk
FAQs
Which book is best for PMA preparation?
PMA Long Course Test Preparation Books,
SPSC Accounts Officer Recruitment Test Guide. Rated 0 out of 5. ₨1,650.00.
FPSC Lecturer's Guide for Islamic Studies. Rated 0 out of 5. ₨2,250.00.
FPSC Lecturer's Guide for Computer Science. Rated 0 out of 5. ₨2,250.00.
What is the passing marks for PMA long course?
How much percentage is required for PMA long course? Normally 55% is required to apply but if a candidate has degree of BBA/BS Hons etc with 60% marks then they can also apply even if they have 50% marks in intermediate.
What is the subject of PMA?
The PMA curriculum, For their first 2 years, the cadets take up general education subjects similar to a typical university such as History, Calculus, Trigonometry, Algebra, Philosophy and Logic. Cadets also take military science and military leadership subjects during these years.
How many people are selected for PMA every year?
Army to increase intake of cadets at PMA – Pakistan, The PMA, which currently has three battalions, annually inducts two batches of around 500 cadets each.
More Topics!
Pma long course 153 preparation pdf download
Pma long course 153 preparation pdf
Pma long course 153 preparation online
Pma long course 153 preparation book pdf
pma long course 153 preparation whatsapp group link
pma long course 153 apply date
pma long course 153 apply date 2023
pma long course 152 apply online
pma long course preparation book pdf
Pma long course preparation free
pma long course 152 preparation book pdf
pma initial test preparation pdf
pma long course 152 apply date
pma long course syllabus
pma long course 153 apply date
pma long course test papers pdf