Punjab Talent Olympiad Scholarship 2023 NTA Apply Online
Punjab Talent Olympiad Scholarship 2023 NTA Apply Online via nta.org.pk last date eligibility criteria advertisement application form submission procedure selection procedure test interviews dates schedule written test pattern syllabus along with selected candidates lists, rejected candidates applications lists get in PDF also here at from.
NTA Punjab Talent Olympiad Scholarships
The Punjab Talent Olympiad Scholarship Program is a scholarship program that offers financial assistance to students who demonstrate exceptional talent in various academic and non-academic fields. The program is sponsored by the Government of Punjab and is open to students who are residents of the state. To be eligible for the scholarship, students must be enrolled in a recognized school or institution and must have achieved outstanding results in a Punjab Talent Olympiad examination. The scholarship program provides financial assistance to students to help them pursue their studies and develop their talents. The amount of the scholarship and the specific eligibility criteria may vary from year to year, so it's best to check with the program organizers for the most up-to-date information.
Punjab Talent Olympiad Scholarship 2023
The government of Punjab announces Punjab Talent Olympiad Merit Scholarship Program 2022-23 for Students of Bachelor to master. All interested and eligible aspirants have to apply online for Merit Scholarship Olympoid through Nobel Testing and Processing agency i.e www.nta.org.pk. It's an excellent opportunity for talented and hardworking students of Colleges/Universities to get these educational Scholarships.
Punjab Talent Olympiad Scholarships NTA Apply Online
All the students studying in private or government colleges of Punjab are eligible to apply for these scholarships. Selection will be made after the test on open merit basis. More than 50 percent of seats are reserved for female students. The scholarships will be given on talent base to the students. The government will give Scholarships/grants up to the number of Rs. 600,000/- to selected candidates as per Punjab Talent Olympiad Scholarship Program. Application forms can be downloaded from the website www.nta.org.pk.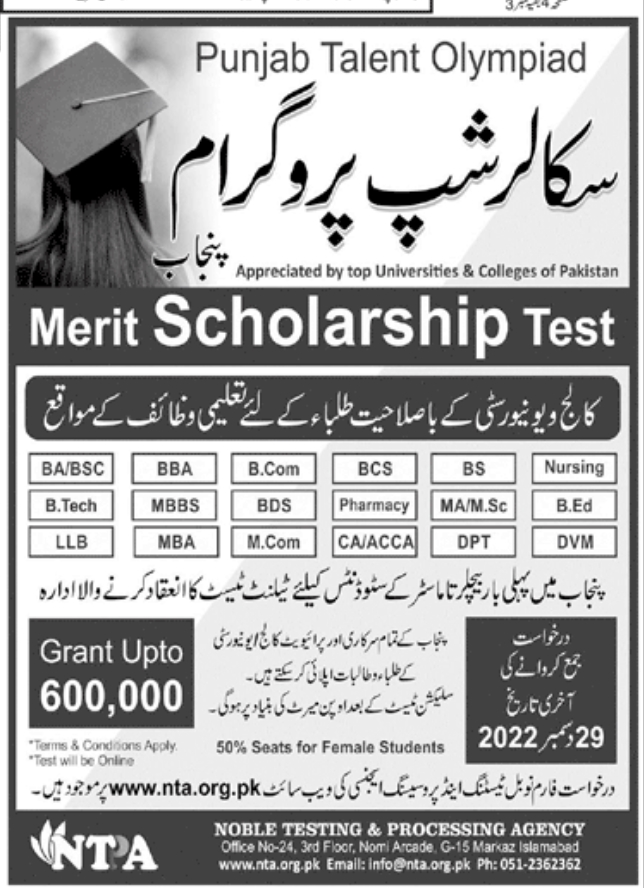 Punjab Talent Olympiad Scholarships Program 2022 Advertisement
Who can apply for Punjab Talent Olympiad Scholarship 2022-23
Following courses students can apply:
BA/BSc

BBA

B.com

BCS

BS

Nursing

B. Tech

MBBS

BDS

Pharmacy

MA/MSc

B.Ed

LLB

MBA

M.com

CA/ACCA

DPT

DVM
Punjab Talent Olympiad Scholarship Application forms 2022
For applying for these scholarships candidates need to visit the Website of the noble testing and processing Agency (NTA) www.nta.org.pk and download the application forms. Application forms can also be downloaded from the link given above.
These application forms must be filled out by candidates carefully in all aspects. Candidates must provide their exact information while filling out application forms otherwise their applications may be rejected.
More:
Last Date for apply Talent Olympiad Scholarship Punjab
The deadline for application form submission and selection through an online registration is 29th December.