HEC CSC China Scholarship 2023 Online Apply
HEC Announced Chinese Govt Scholarship Program (CSC) 2023-24. HEC CSC China Scholarship 2023 Online Apply advertisement Chinese government scholarship application form submission requirements eligibility criteria last date required subjects, test interviews dates schedule final selected candidates lists in PDF get here through.
HEC CSC China Scholarship 2023
China Scholarship Council (CSC), the Education Ministry of China, announced the 2023-24 government scholarship for international students. The Chinese Government Scholarship will be awarded for different programs, including Master's, Ph.D., and Bachelor's degrees. CSC scholarships are offered by the top universities in China to students enrolled in various programs. CSC China Scholarship covers all expenses including travel, accommodation, and educational expenses.
CSC Scholarship 2023 Start Date
The fully-funded Chinese Government Scholarship 2023 will be open for online applications in 250+ Chinese Universities from November 1, Do You Need IELTS to apply for CSC Scholarships 2023? IELTS is not required to apply for Chinese CSC Scholarships in 2023. English language proficiency certificate or any IELTS alternative English language test is acceptable by most Chinese Universities. Applicants should log onto the Chinese Government Scholarship Information System for online application no later than December 31, 2023.
Chinese Government Scholarship 2023
The CSC scholarship's duration varies depending on the details we provide below. To apply online for the CSC scholarship in 2023, Pakistani/AJK citizens can visit the HEC website.  The 2023/2023 Chinese Government Scholarshipis now open for application. Online applications (www.campuschina.org) should be submitted no later than January 31. – be a citizen of a country other than the People's Republic of China, and be in good health both mentally and physically.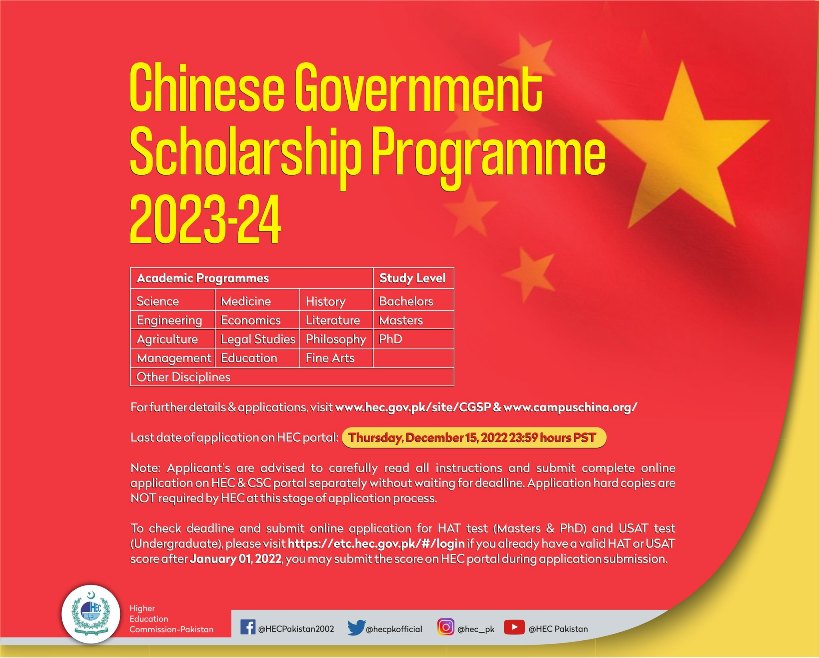 HEC CSC China Scholarship 2023 Advertisement
CSC China Scholarship Eligbility
AJK/Pakistani nationality holders in good health.
Dual nationality holders are not eligible.
Candidates having HSSC/BS/MS degrees for the bachelor's/Masters and Ph.D. admissions.
Age limit: less than 25 for undergraduate degrees, less than 35 years for Masters degrees, and less than 40 years for PH.d. Programs
Candidates with incomplete degrees on the closing date are ineligible.
Applicants must not receive any other scholarship currently.
A HAT/USAT test score (at least 50/100) is required. Those who have HAT/USAT test scores on/after 01 January 2023 upload them on the portal for consideration.
Discipline CSC China Scholarship

The eligible candidates can apply for the following disciplines through the CSC China Scholarship 2023-24 in various degree programs.
Science
Engineering
Agriculture
Management
Medicine
Economics
Legal studies
Education
History
Literature
Philosophy
Fine arts
China Scholarship 2023 Study Level and Duration
The universities in China will offer the programs mentioned above for the following degrees (study levels) by the CSC program.
| | | |
| --- | --- | --- |
| Supporting Categories | Major Study (including preparatory years) | Chinese Language (Preparatory study year*) |
| Undergraduate students | 4-5 | 1-2 |
| Masters students | 2-3 | 1-2 |
| Doctoral students | 3-4 | 1-2 |
CSC China Scholarship Benefits
Tuition fee
Accommodation (free university dormitory)
Stipend

Undergraduate students: CNY 2,500 per month (Min)
Masters students: CNY 3,000 per month (Min)
Ph.D. students: CNY 3,500 per month (Min)

Travel expenses: HEC will not cover the travel expenses in the scholarship. The candidates will be responsible for this.
Few More: WAPDA Internship Program 2023-23
Required Documents for CSC Scholarship
Copy of signed application form of HEC in separate spiral binding (no other documents will be attached with the HEC application form)
Copy of signed application form of CSC with other documents.
Attested copies of educational documents, IBCC Equivalency Certificate/HEC Equivalency Certificate (if required)
Photocopy of CNIC/B-form and Domicile
A study plan/research proposal
Photocopy of the Physical Examination Record for foreigners in English
Non-criminal Record
NOC from applicant employers in case of employment
How to Apply for CSC Scholarship 2023
Apply online through the HEC  portal for the CSC scholarship 2023 after registration. (https://www.hec.gov.pk/english/scholarshipsgrants/lao/CGSP/Pages/How-to-Apply.aspx)
After submitting the online application, take a print of it and sign it.
HEC Portal for the CSC China scholarship will close on 15 December 2023.
Check Also: PPL Scholarship Schemes 2023-2023
Chinese Government Scholarship Official Website
All candidates can apply online officially through https://www.hec.gov.pk.
Chinese Government Scholarship 2023/2024 Deadline
The deadline for applying online for the Chinese Government Scholarship CSC via the HEC portal will be 15 December 2023.
New: PEEF Scholarships for AJK Students 2023
CSC Scholarship 2023 Universities List
After applying through HEC Portal, Visit the CSC website and submit an online application through program Type: A and Agency No.5861. Download the submitted copy of the CSC China website and keep it yourself. Applicants must submit online applications to the HEC and CSC portals.