KPITB ETEA Jobs Roll No Slips 2023 Candidates Lists
Khyber Pakhtunkhwa Information Technology Board KPITB ETEA Jobs Roll No Slips 2023 Candidates Lists check latest www.etea.edu.pk roll no slip download by Name, CNIC, Roll Number slips Test date time center information about recent jobs test.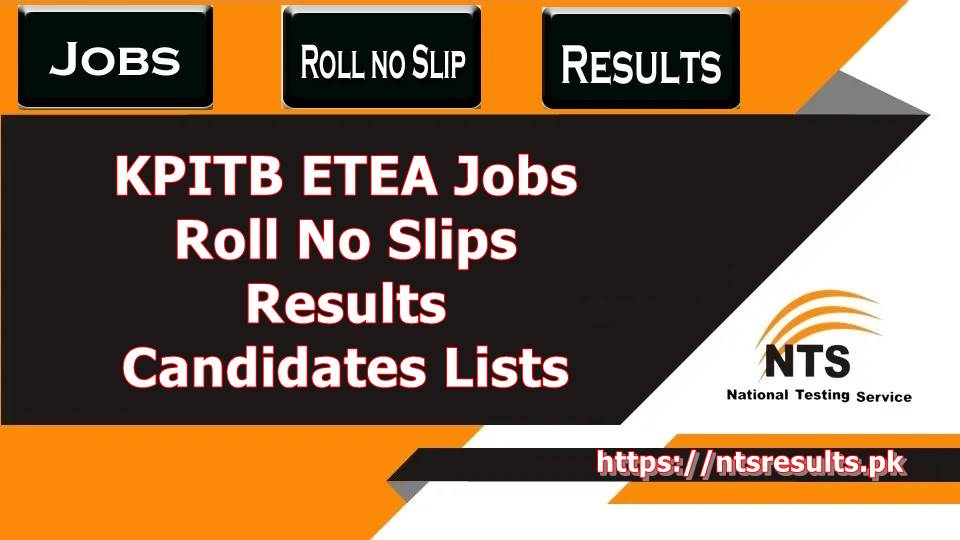 www.etea.edu.pk roll no slip 2023
KPITB Information Technology Board Jobs ETEA Roll No Slip Download Online Here. View the list of eligible and rejected candidates here. The Khyber Pakhtunkhwa Information Technology Board is an autonomous public sector organization established by an Act of the Khyber Pakhtunkhwa Assembly in May 2011 for the promotion of information technology, IT services, information and information technology assisted education for the public and private sector in Khyber Province. Pakhtunkhwa.
KPITB ETEA Jobs Roll No Slips 2023
New job openings for PESCO are being advertised by the Water and Power Development Authority. The full detail is available to applicants who wish to read it. Interested applicants from all over Pakistan are considered for this recruitment. PESCO provides electricity services to more than 2.6 million people in all districts of Khyber Pakhtunkhwa.
List of Vacancies
Project Manager ( BS – 19)
Incubator Manager ( BS – 18)
Monitoring & Evaluation Specialist ( BS – 18)
Marketing & Communication ( BS- 17)
Contracts Management Assistant ( BS – 16)
Record Keeper ( BS – 11)
Project Assistant ( BS – 16)
Solution Architect Team Lead ( BS – 18)
Business Process Re Engineering Specialist ( BS – 17)
Web Application Developer ( BS – 17)
Mobile App Developer ( BS – 17)
System Engineer ( BS – 17)
GIS Specialist ( BS – 17)
Project Assistant ( BS – 16)
Software Developer ( BS – 17)
Project & Business Development Manager ( BS – 18)
Software Developer ( BS – 17)
Junior Finance & Accounts Officer ( BS – 16)
KPITB ETEA Jobs 2023 Candidates Lists
KPITB ETEA Vacancies 2023 in KP Information Technology Board Apply Online is advertised in the newspaper. These positions include the positions of Project Manager, Incubator Manager, Monitoring and Evaluation Specialist, Marketing and Communication Officer, Contract Management Assistant, Records Manager, Project Assistant, Solutions Architect (Team Leader), Specialist in Business Process Reengineering, Web Application Developer, Mobile Application Developer, System Engineer, GIS Specialist, Project Assistant, Software Developer, Project and Business Development Manager, Software Developer and Junior Finance and Account Officer. These vacancies are open for various projects under the KP Information Technology Board.
www.etea.edu.pk Roll No Slip Download
Currently, KPK Govt Jobs 2023 is open for various positions at KPITB. Candidates who are looking for KPK Govt Jobs and who meet the criteria can apply for these jobs. The recruitment process is carried out by the Educational Test and Evaluation Office (ETEA). View the ETEA 2023 vacancies and apply online at KPK Jobs. Read full details on page to apply for these jobs etea online.
KPITB ETEA Jobs 2023 Eligibility Criteria
Interested persons who wish to apply address and reimbursement for these vacancies can contact the job requirements. Candidates seeking to apply for the position of Notice No. 2 must be resident in the districts under the jurisdiction of PESCO.
Both genders can participate in this recruitment. The quota of minorities and people with disabilities will be respected. Candidates can get more information about the provincial quota in the announcement.
www.etea.edu.pk Result 2023 by Name Roll No
Candidates who wish to apply must have the skills and experience. You can read the information about the requirements in the announcements. Candidates with Matriculation, Intermediate, Graduation and Masters can apply at PESCO New career opportunities announced by Peshawar Electric Supply Company are explained on this page. Daily Pakistani newspapers have Peshawar Electric Supply Company PESCO Jobs for people in Pakistan.
How To Apply
Interested candidates may first visit www.etea.edu.pk and apply for the posts online www.etea.edu.pk 2023.
After successful submission of online application , a prescribed UBL online deposit slip will be generated.
Take a printout of the generated UBL deposit slip & deposit the prescribed test fee (non-refundable) in any brnch of UBL.
After successful fee submission, please keep the original deposit slip (candidate copy) having bank desired stamp with yourself and do not share it with anyone else.
After online apply, don't send documents/testimonials to ETEA office, copies of testimonials/documents however will be verified in late process.
Candidates will be informed through SMS by ETEA to download and Print their Roll No Slips.
Deadline for application is 25 March 2023.
KPITB ETEA Jobs 2023 Apply Online Roll No Slip Download
All those candidates applying to the KPK Information Technology Board. Now waiting for your test proofs. So that they can appear in proof of work. Here are the 2021 Khyber Pakhtunkhwa KPITB messages available as soon as they are announced by the officials. Check the test date from here and etea website.
KPITB ETEA Jobs 2023 Online Application Forms
www.etea.edu.pk online apply 2023 also available. The autonomous government organization of the Khyber Pakhtunkhwa Information Technology Board (KPITB), tasked with driving the growth of the ICT and ICT-assisted services sector, is inviting qualified candidates to apply for the following positions. Online, interested candidates can apply for KPITB Jobs 2023 before the deadline of September 30, 2023 for www.etea.edu.pk application form download.
Khyber Pakhtunkhwa KPITB Information Technology Board Jobs ETEA Roll No Slip

Department Name


KPITB Information Technology Board

Job Title

Management Trainee Project, Management Trainee Legal, Management Trainee General Administration, Management Trainee Record Management and Management Trainee Finance
Download Roll No Slip


Click Here

Eligible Candidates List / Test Date

Check From Here

How to Download KPITB Posts 2023 Test Roll Number Slips ?
Roll number slips can also be download by entering identity card number.
After entering the id card number and other details. Candidates can view the roll number slips and also details about the test center.
After your roll no slip is displayed. You can download as well as take the print. Press ctrl+p to take print.
If you are not able to find your roll number slip. Then you are advise to check your name in rejected candidate list. May be due to some reasons you are not eligible for test.
Test date, test time & venue is mention on the roll number slip.