University Of Peshawar UOP NTS GAT Test Online Apply 2022 has announce the admissions for the Master program in the university. The candidates who wants to apply for the admission should know the eligibility criteria to apply for each program. Here we will provide online information for the admission in the UOP NTS GAT Test Online Apply procedure of apply and all other related news. The candidates who are able to apply will get prospectus from the UBL Counter near Central Library, University of Peshawar. While we provide here the online information for the admission in the Peshawar.
As it is compulsory for every applicant to pass the written entrance exam in order to become eligible for admission at University Of Peshawar UOP, so we have provided several free online tests above on this page for free, quick and easy preparation of entry test. All you have to do is to attempt all these tests in order to evaluate as well as improve your current level of preparation for actual exam. By preparing through this way, you will surely be able to achieve high marks and secure admission in your desired degree program.
University Of Peshawar UOP MPhil Admissions NTS GAT Test 2022

 

Last Date Apply



 26-August-2021

 

Eligibility



 Bachelors in Relevant field
 Domicile
 All Pakistan
 

Age Limit



 –
 University
University Of Peshawar
 Roll Number Slip
 

Click Here

 Test Dates
Sunday, 5th September, 2022
Program offers
Masters in the Following Fields:

Arts & Social Sciences
Biological Sciences
Physical & Numerical Sciences
Commerce & Economics
Islamic & Oriental Studies
LLB (3 Year)

Result
 Click Here
To download the Result please click here:
The University of Peshawar, as a mother educational institution of Khyber Pakhtunkhwa is an outcome of the dream of the father of the nation and was created as the first ever University after independence. It is vigorously working with its full zeal and spirit, truly serving and sacred cause of education altogether.
The University of Peshawar, being a mother Institution of the Khyber Pahtunkhwa is not only catering for the academic needs of Peshawar but also of the whole province and Federally Administered Tribal Areas (FATA). The highly qualified and trained faculty, student friendly and supportive administration, modern curricula, conductive academic environment and excellent infrastructure are the hallmarks of the University. Its role in political, industrial and government leadership is recognized. The University has an over whelming contribution in bringing positive changes in the society.
UOP NTS GAT Test Eligibility Criteria
M.S, M.Phil., M.Phil. leading to Ph.D.
Relevant Master's degree or 4-years education after intermediate (130 Credit hours), with a minimum CGPA 2.5 in Semester System or 2nd Division in Annual System.
Candidate must pass Screening Test conducted by the Institute/Center/Department/College by securing at least 60% marks.
Ph.D.
Candidates having MS/M.Phil or 18 years education with a CGPA 3.0 in Semester System or 1st Division in Annual System can apply.
Candidate must pass Screening Test conducted by the Institute/Center/Department/ College by securing at least 70% marks.
IMPORTANT  Note:
Candidates employed in any Government or Semi-Government Department/Organization must submit No Objection Certificate from the concerned Department/ Organization within 30 days after initial selection failing which the selection will be deemed to have lapsed.
Provision of hostel accommodation is not mandatory and is subject to availability of seats.
In case of ambiguity about eligibility, the opinion of the Graduate Studies Committee of the concerned department may be taken into consideration.
Schedule for Interview/ Scrutiny of papers and remittance of fee will be given by each Department/ Centers/ Institute within the period between given dates.
UOP NTS GAT Test Required Documents
The following documents must be enclosed:
Master's Degree (Transcript)
M.Phil Degree, (where applicable)
Character Certificate issued by the Institute last attended.
Migration Certificate (for students of other Universities)
N.O.C from the employer (where applicable).
Recent passport size photograph pasted at the right top of the application form.
The selected candidate for admission must present his/her original documents for scrutiny before the Admission Committee of the respective departments/institution/centers, on the announced day and date.
For further details please visit www.nts.org.pk
Foreign Students:
International students seeking admission in the University Of Peshawar UOP NTS GAT Test Online Apply have to apply for admission direct to the Director Admission, University of Peshawar with the following data:
Application Form (Student Visa Form)
Photocopy copy of Passport
2 Photographs (Passport size)
Educational Documents
Equivalence of Certificates
Since the academic session comprising Fall & Spring semester starts in the months of September & January each year, as such candidates are required to apply for admission at least two months prior to the commencement of defined session.
University Of Peshawar UOP NTS GAT Test Online Apply 2022 | NTS Application Form | NTS Roll No Slips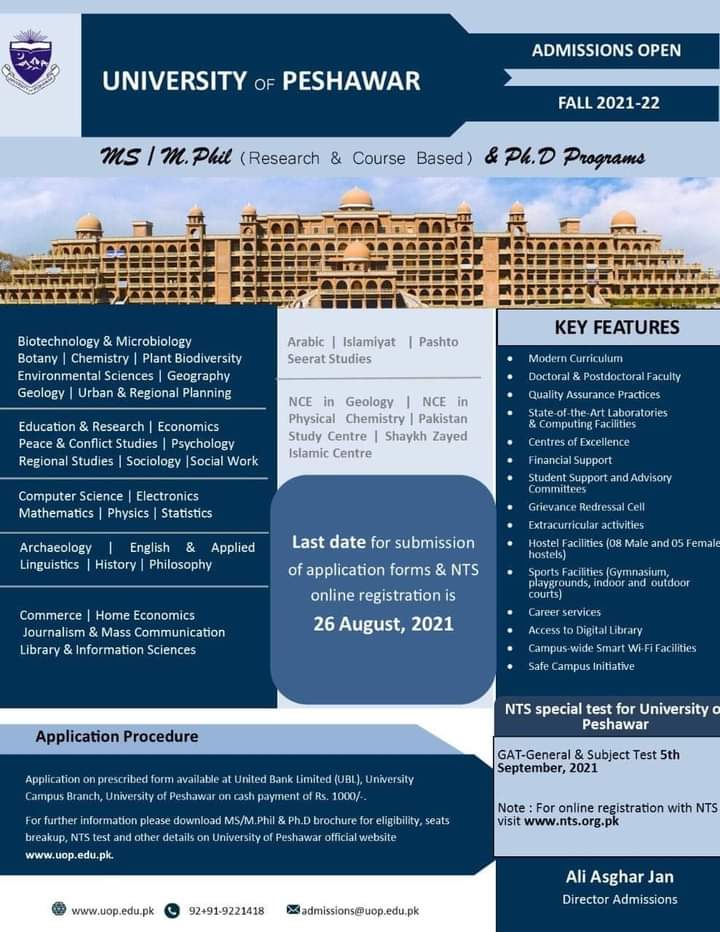 Thus the applicants Peshawar University NTS Entry Test Roll Number Slip 2022 download from here. While other persons who needs to apply for the forthcoming NTS Admissions 2022 we give them online rule in such manner. So for moreover refreshes and particularly important to UOP NTS GAT Test Online Apply 2022, Peshawar University NTS Entry Test Roll Number Slip 2022 is accessible here. University Of Peshawar UOP NTS GAT Test Online Apply 2022 and final result along with answer keys are accessible here.