Public Holidays in Pakistan 2023
Public Holidays in Pakistan 2023 Upcoming National Holidays in Pakistan calendar. Latest holiday in Pakistan. Discover upcoming public holiday dates for Pakistan and start planning to make the most of your time off. Discover upcoming public holiday dates for Pakistan and start planning to make the most of your time off.
Pakistan Public Holidays
Holiday dates are announced by the Government of Pakistan at the end of each year for the following year. This list includes the number of observance days given for each particular holiday. It is not uncommon that as these holidays approach, the government makes an official announcement granting more days for the next celebration.
The Government of Pakistan also reserves the right to declare unique holidays throughout the year. These dates were used, in the past, for natural disasters and memorial days. Businesses and banks are required to comply with these holidays, even if they are offered at short notice.
All Muslim holidays, holidays and days of remembrance are calculated using the Sufi lunar sighting calendar.
Pakistan only recognizes Sunday as a day of rest. Any holidays that fall on this date remain on that date and do not carry over to the following Monday. There was much disagreement in the past about whether weekends were Friday and Saturday or Saturday and Sunday, so Sunday was designated as the only day of rest and "weekends" were not recognized.
Popular Holidays in Pakistan
Ashura
Christmas
Easter
Eid ul-Azha
Eid ul-Fitr
Independence Day
Kashmir Day
Labour Day
Milad un-Nabi
Pakistan Day
Quiad-e-Azam Day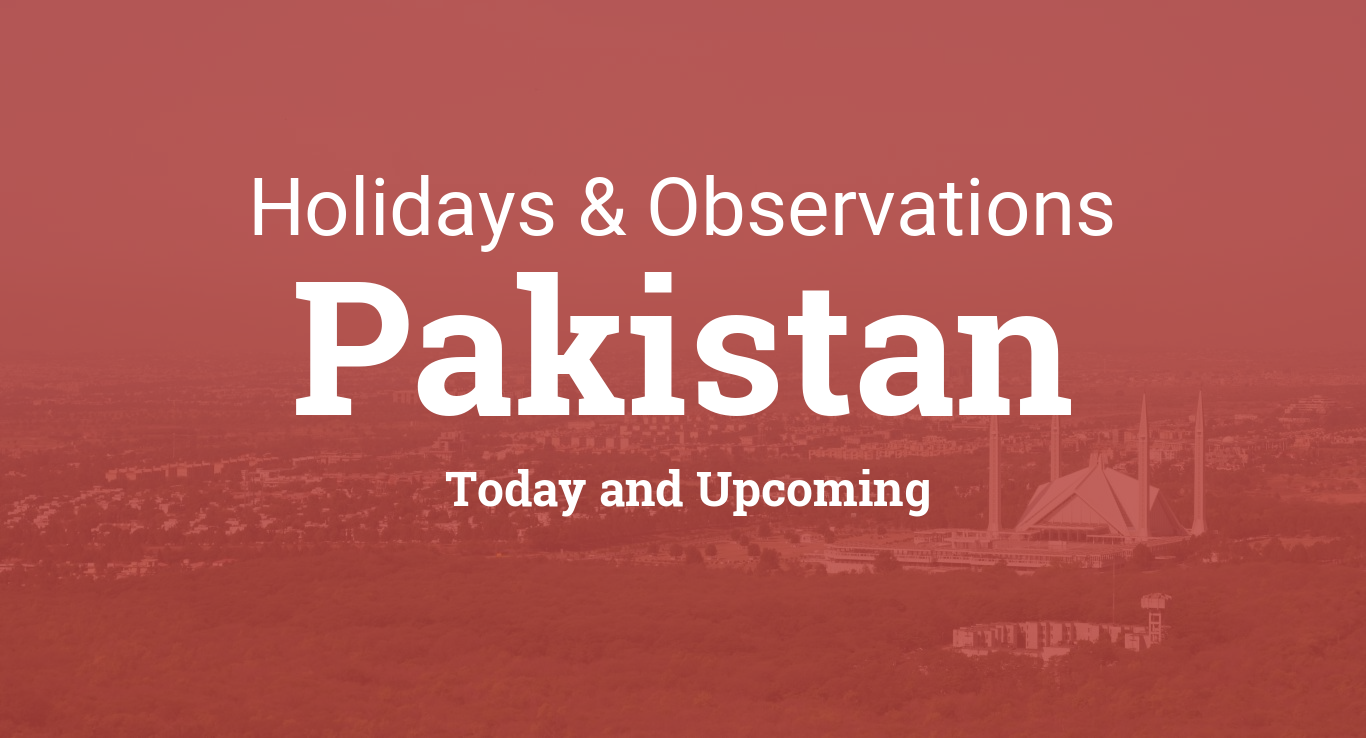 Pakistan Public Holidays 2023
This page contains a national calendar of all 2023 public holidays. These dates may be modified as official changes are announced, so please check back regularly for updates.
Date
Day
Holiday
5 Feb
Sun
Kashmir Day
23 Mar
Thu
Pakistan Day
10 Apr
Mon
Easter Monday *
22 Apr
Sat
Eid ul-Fitr
23 Apr
Sun
Eid ul-Fitr Holiday
24 Apr
Mon
Eid ul-Fitr Holiday
1 May
Mon
Labour Day
29 Jun
Thu
Eid ul-Azha
30 Jun
Fri
Eid ul-Azha Holiday
1 Jul
Sat
Eid ul-Azha Holiday
27 Jul
Thu
Ashura
28 Jul
Fri
Ashura
14 Aug
Mon
Independence Day
28 Sep
Thu
Milad un-Nabi
9 Nov
Thu

Iqbal Day

25 Dec
Mon
Christmas Day *
25 Dec
Mon
Quiad-e-Azam Day
26 Dec
Tue
Day after Christmas *
Visit gov.pk for the original release.
National Public Holidays in Pakistan
In Pakistan, the public holidays may vary from year to year. However, there are several recurring public holidays that are typically observed. Please note that the following list includes some of the major public holidays in Pakistan:
Kashmir Day (February 5)
Pakistan Day (March 23)
Labor Day (May 1)
Independence Day (August 14)
Defense Day (September 6)
Ashura (Muharram 9-10)
Eid-ul-Fitr (dates vary depending on the Islamic calendar)
Eid-ul-Adha (dates vary depending on the Islamic calendar)
Quaid-e-Azam Day (December 25)
Christmas Day (December 25) – observed by the Christian community
Please note that Islamic holidays, such as Eid-ul-Fitr and Eid-ul-Adha, are based on the Islamic lunar calendar and their exact dates may vary each year. Additionally, some regional and provincial holidays may be observed in specific areas of the country.
It's important to check the official government announcements or consult local authorities to confirm the specific public holidays for a given year, as they may be subject to change.
Tomorrow Holiday Notification 2023
You can also refer to local news channels, newspapers, or online news portals that provide regular updates on public holidays and official notifications. These sources typically announce holiday notifications in advance, including any last-minute changes or additions.
It's important to note that holiday notifications can vary from year to year and may depend on regional or religious considerations. Therefore, checking the most reliable and official sources is crucial to stay informed about tomorrow's holiday notification in Pakistan.
Holiday Details
Normally, all Pakistanis know very well the purpose of all the holidays they enjoy. But still, for someone who is interested in knowing more about the details of the vacation, it is mentioned below.
holidays
These are not holidays, they are only for banks. Banks are closed these days to the general public. Also, official holidays are not for bank employees. They perform tasks that could not be performed on the days when banks were open to customers. This holiday usually comes at the beginning of the calendar year, and also in the middle of the calendar year, which is also the beginning of the fiscal year in Pakistan. Also once in the month of March since this festivity is also celebrated every year. So, in total, there are usually three public holidays a year, which are the days when banks are closed to customers.
More:
Kashmir Solidarity Day
Kashmir Solidarity Day is celebrated in Pakistan on February 5 of every year. As the name suggests, Pakistanis show their solidarity with the Kashmiri people, the occupied Kashmiri people of India. The people of Pakistan celebrate this day to send a message to the brothers and sisters of Kashmir, that we stand with you and will speak in all international forums for your right to self-determination. A right granted by the United Nations to the Kashmiris, so that they can, by referendum, choose between wanting to join Pakistan or India or want to live as an independent country. A right that India has denied for decades.
Pakistan Day
Once again, as every Pakistani knows, a resolution was passed in Lahore on March 23, 1940 that Muslims from the Indian subcontinent, who were a minority, were not allowed to freely exercise their religious duties, thus requiring a separated state. They will be able to perform their religious duties freely and also the Islamic laws will govern the country. This resolution was initially known as the Lahore Resolution, but later became known as the Pakistan Resolution.
Public Holidays in Pakistan for year 2023
One thing is for sure, lots of Pakistanis do love the holidays and they spend as well as celebrate them like they should. Today we came up with a list of public holidays for offices and banks, for the calendar year 2023, the list can be seen below on this page.
Date
Holiday
Day of Week
Jan 2, 2023
Bank Holiday (Banks are Closed)
Thursday
Feb 5, 2023
Kashmir Solidarity Day
Sunday
Mar 22, 2023
Bank Holiday (Banks are Closed)
Wednesday
Mar 23, 2023
Pakistan Day
Thursday
Apr 10, 2023
Easter Monday (Optional Holiday)
Christians can avail it.
Monday
Apr 21 to Apr 25, 2023
Eid-ul-Fitr Holidays
Saturday to Monday
May 1, 2023
Labour Day
Monday
Jun 29 to Jul 01, 2023
Eid-ul-Azha Holidays
Thursday to Saturday
Jul 03, 2023
Bank Holiday (Banks are Closed)
Monday
Jul 27 to Jul 28, 2023
Ashura Days
Thursday & Friday
Aug 14, 2023
Independence Day
Monday
Sep 28, 2023
Eid Milad-un-Nabi
Thursday
Nov 9, 2023
Iqbal Day
Thursday
Dec 25, 2023
Quaid-e-Azam Day / Christmas Day
Monday
The above chart of yearly holidays is only for people going to offices and banks. Students and teachers get much more holidays, if you are interested in knowing more about education sector holidays, check the list of holidays for schools & colleges in year 2023.
More Topics:
tomorrow holiday notification
is tomorrow a holiday in pakistan
is today a holiday in pakistan
holiday announcement today
national and international days of pakistan
tomorrow holiday notification 2023
pakistan holidays and traditions
is tomorrow a holiday in karachi
public holidays in 2023
islamic holidays in pakistan 2023
eid holidays 2023 pakistan
federal government holiday notification 2023
public holidays in pakistan 2024
25 may 2023 public holiday notification
tomorrow holiday notification 2023
sindh government holiday notification 2023