PMC MDCAT Passing Marks Eligibility Criteria
PMC MDCAT Passing Marks Eligibility Criteria, Pakistan Medical Commission (PMC) medical universities from getting the Medical and Dental Colleges Admission Test guideline. PMC Notice About Approved MDCAT 2023 Passing Marks & Eligibility Criteria, Pakistan Medical Commission is a statutory regulatory authority that maintains the official register of medical practitioners in Pakistan. Its chief function is to establish uniform minimum standards of basic and higher qualifications in medicine and dentistry throughout Pakistan.
PMC MDCAT Passing Marks Eligibility Criteria
Pakistan Medical Commission issued a notification about the MDCAT 2023 Eligibility Criteria and Passing marks for MBBS and BDS. PMC published the notice on 08 September 2023, about provide details about the approved decisions of the Medical and Dental Commission regarding MDCAT Test. In the notice, PMC also informed that the schedule MDCAT Test in September-October has been postponed till further orders. However, below are the details about the MDCAT test decisions approved by the PMC.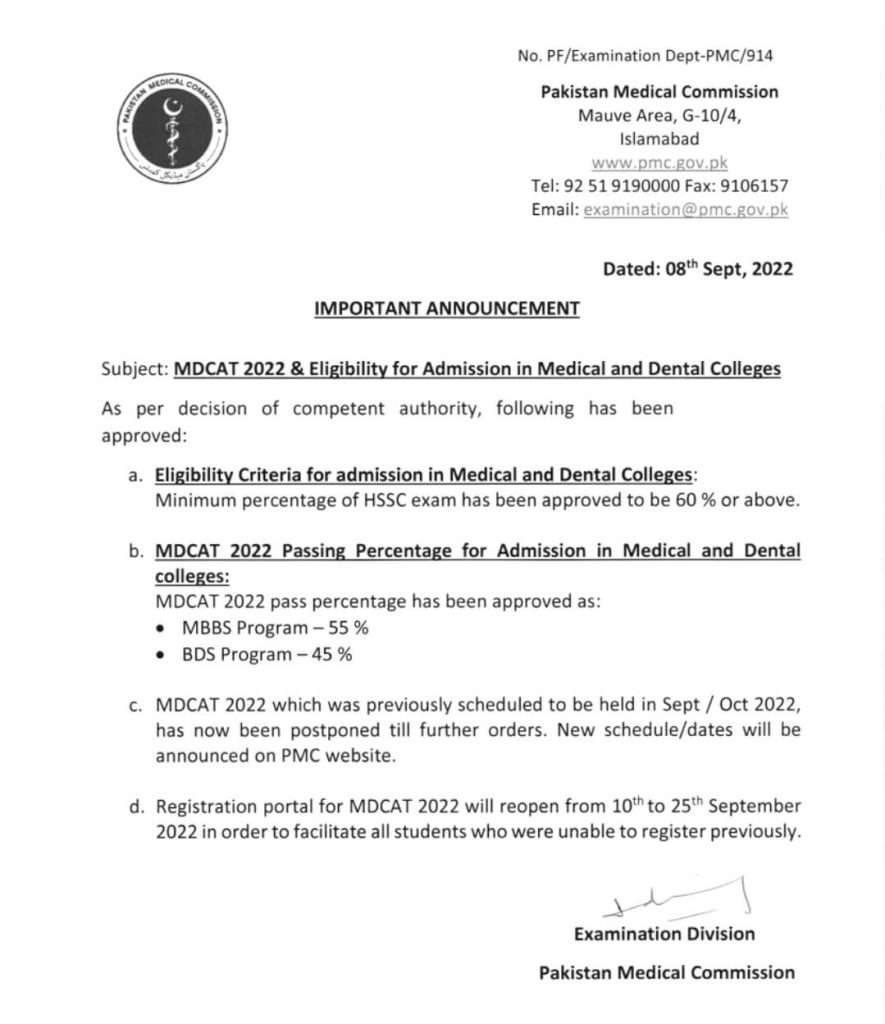 MDCAT Eligibility Criteria
The candidates having at least 60% marks in the Intermediate (HSSC) or equivalent degree are eligible for the MDCAT 2023.
PMC MDCAT Passing Marks
According to the PMC notification, the approved passing Percentage for the MDCAT 2023 is the following:
MBBS Program: 55%
BDS Program: 45%
How many marks are required for MBBS in MDCAT?
The passing marks for the MDCAT examination shall be 60%.
Is 80% good in FSC?
What if your score is in the range of 80% in Fsc pre-medical? You may have chosen pre-medical in Fsc with the wish to join medical college or MBBS. But despite your efforts, if you have gotten between 70-80% marks in Fsc, do not waste your time and strength on pursuing MBBS or preparing for the MDCAT and similar exams.
Check More: PMC Roll No Slip @www.pmc.gov.pk
MDCAT Schedule and Registration Portal
The Pakistan Medical Commission has postponed the MDCAT 2023 till further orders. So, Commission will upload the new schedule for the MDCAT 2023 soon. However, PMC informed that the registration portal for the MDCAT will open from 10-25 September 2023 for those who can't apply before.